Redmi and Realme Snapdragon 855+ smartphones may arrive in near future
Redmi and Realme Snapdragon 855+ smartphones may arrive in near future
Qualcomm has announced the more powerful Snapdragon 855+ mobile platform that offers better processing speeds and graphics performance than the SD855 chipset. Many Android smartphone OEMs have launched SD855 powered smartphones in the first half of the year. In the second of 2019, the ASUS ROG Phone II will be the first phone to feature Snapdragon 855+ SoC. However, there will be many other brands that could be now gearing up to launch SD855+ powered smartphones in the latter half of the year. It appears Redmi and Realme may also launch SD855 Plus phones later this year.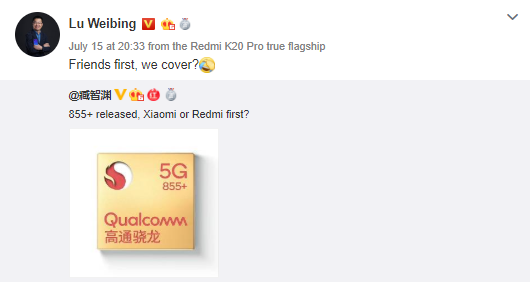 Soon after the announcement of the Snapdragon 855 Plus chipset, Redmi General Manger Lu Weibing released a Weibo post that hinted that a Redmi phone featuring the new flagship chipset may debut later this year. The rumor mill is speculating that the upcoming
Xiaomi Mi MIX 4
will be powered by Snapdragon 855+. However, the possibility of an affordable Redmi flagship phone with SD855+ cannot be ruled out. Weibing had recently hinted that the next flagship phone from the company will include features like IR blaster, dual speakers and linear motor that are not available on the
Redmi K20 Pro
smartphone.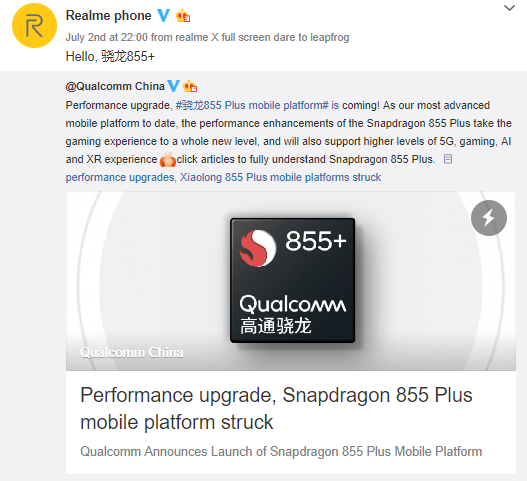 Realme too has welcomed the Snapdragon 855+ chipset by reposting Qualcomm China's SD855+ Weibo post. Realme has mainly concentrated on launching the affordable smartphones. Hence, it hasn't released any Snapdragon 8XX series chipset powered phone yet. Realme's Weibo post suggest that Snapdragon 855+ Realme phone could be in works.
Leaked information that had surfaced in May had claimed that Realme may launch a flagship phone called Realme X Pro this year. The leak had claimed that it may come in 6 GB and 8 GB RAM editions with 128 GB of native storage on both models. The Realme X Pro could be priced around 2,599 Yuan. It is advisable to wait for further reports to know whether the Realme and Redmi will really release SD855+ phones in this year.